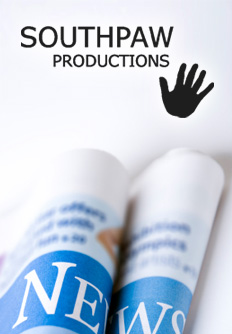 CONTACTS
Southpaw Productions, s.r.o.
U Kanálky 1559/5
120 00 Prague 2 – Vinohrady
Tel: +420 222 715 698
GSM: +420 777 723 599
E-mail: info@southpawpro.cz
Image Lab, a Czech company specializing in the field of human resource management and development, announced today that it is the first company in the Czech Republic to be certified to provide training for the CELEMI Enterprise program.  The program is based on management and business environment simulations and those of situations focused on strategic business management during constantly changing conditions on dynamic markets.
"Particularly in times of great uncertainty for the global economy, CELEMI Enterprise trainings help companies to react quickly to changes in market conditions and this from various points of view:  personnel, marketing, sales strategies, etc.," explains Robert Pik, marketing manager at Image Lab.  He adds, "Obtaining certification to provide this training was not just a matter of a few days.  We have been working with CELEMI since 2006, and in 2007 we obtained certification for their Apples & Oranges and Decision Base programs.  We also took part in a number of their workshops abroad.  Simulation facilitators must have good knowledge of business, relationships and strategic company management.  Without these skills the program's benefits for clients are noticeably fewer and an excellent simulation, that can bring about changes in how people think and company success, becomes merely a complicated version of Monopoly."
The basis of the CELEMI Enterprise program is a managerial simulation, wherein six different "companies" compete to attract customers.  Players take on roles as part of company management teams in the areas of marketing and sales, HR development and internal processes, production and financial management and controls.  The task of each team is to create and fulfill an agreed strategy meant to attract and subsequently maintain a customer base.  The main tasks consist of short-term decision-making; however, the overall goal is the long-term development of the company and establishing corporate values.  In this context participants can identify and sell goods to preferred customers, create an interesting and profitable product portfolio, extract as much as possible from the managerial team's abilities and talents, create and maintain a strong brand and gain an overview of both short-term and long-term company financial results.  The entire simulation takes place under the watch of an experienced facilitator-trainer.  Training participants gather a whole range of information on how they can improve or make their work more efficient and increase their competitive edge as managers.
In order for Image Lab consultants to able to teach the Enterprise program, they had to take part in trainings themselves, through which they earned the CELEMI Enterprise certification.  They took part in this training thanks to support from the European Social Fund.  The internal training at Image Lab took place under the leadership of a Polish partner and their lecturer-consultant, Piotr A. Gryko.  He is founder and co-owner of a  top Polish consultancy firm, House of Skills.
More information on the Celemi Enterprise training can be found on http://www.celemi.com/What-we-do/Business-Simulations/Celemi-Enterprise/