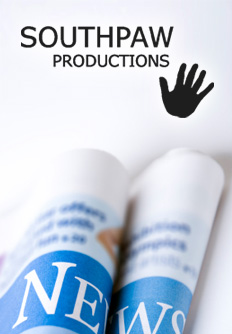 CONTACTS
Southpaw Productions, s.r.o.
U Kanálky 1559/5
120 00 Prague 2 – Vinohrady
Tel: +420 222 715 698
GSM: +420 777 723 599
E-mail: info@southpawpro.cz
Southpaw
Our team
The Southpaw Team of consultants consists of three principals, who manage overall day-to-day business administration along with the work of a team of approximately 5-6 consultants. Company principals are responsible for managing client relationships and working with Southpaw's team of consultants to guide media relations and government relations services for our clients.
Read more...
Southpaw Services
Southpaw Productions provides the following services:
- Public Relations (PR)
- Public Affairs (PA)
- Research, Translation and Text Localization Services
Read more...
Corporate Social Responsibility (CSR)
Although we're a small company with limited resources, we do believe in giving back to the community, where our employees work and live. Specific areas that interest members of the Southpaw Team include efforts to fight against and find a cure for cancer (in all forms), specific education initiatives, and programmes to provide assistance to socially-disadvantaged groups. Below is a short list of organizations that Southpaw consultants have supported in the past. We hope this list will grow in the future.
Read more...
About the agency
The Southpaw Productions agency was established in 2005 by a team of public relations and public affairs experts with over 10 years experience in their respective fields.  Prior to launching the agency, company partners participated on successful communications campaigns for companies in the areas of finance, pharmaceuticals, ICT/telecommunications, retail and FMCG and for government bodies.  In their previous agency roles, Southpaw principals were also actively involved in the design and implementation of two successful public communication strategies on the Czech Republic's accession to the European Union.
Read more...