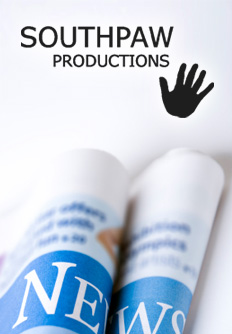 CONTACTS
Southpaw Productions, s.r.o.
U Kanálky 1559/5
120 00 Prague 2 – Vinohrady
Tel: +420 222 715 698
GSM: +420 777 723 599
E-mail: info@southpawpro.cz
Southpaw Services
Southpaw Productions provides the following services:
- Public Relations (PR)
- Public Affairs (PA)
- Research, Translation and Text Localization Services
PUBLIC RELATIONS (PR)
Press Office Management: standard oversight of day-to-day communications with media and via social networks. This process includes production of daily media monitoring reports, implementation and updating of client communication strategies, following media trends and liaising with journalists on story ideas. Press office activities also include the drafting, editing and dispatch of press releases or the local adaptation of press materials for multinational companies.
Thought Leadership Materials: development of thought leadership materials ties into press office activities. Thought leadership initiatives focus on issues where the client has special expertise and has an interest in influencing public discourse in media and on social networks. Thought leadership materials can range from production and dissemination of information on market research to promotion of new technologies that are just making their way to the market.
Crisis Communications: crisis communications are a very specific type of service for clients, who find themselves having to address attacks on their company or brand. The Southpaw Productions agency always addresses crisis communications on a per case basis, helping clients determine a strategy for external communications on a given issue. Based on a pre-agreed strategy the agency then manages communications with the press and provides 24/7 consultancy to clients'press spokespeople. In specific cases, the agency can also provide clients a spokesperson provided the company does not have internal capacity.
Media Training: media training services focus on teaching clients the processes that occur when managing external communications. Media trainings are scaled to fit clients' specific needs and include both theoretic as well as practical instruction. All Southpaw media trainings are run with the support of former journalists, who have either worked as reporters for daily media or for broadcast (TV, radio) media.
Social Media Strategies: social media like Facebook, Twitter, YouTube, Flickr, etc. are an increasingly important part of modern communication strategies. Such media give clients greater room for structuring messages they wish to convey to their partners and customers, and they also enable direct communication to key target audiences. At the same time, social media require a large time investment. Thus they are not a communications tool that is relevant for every company. However, if your company has a strong consumer audience, then Southpaw Productions can advise you on communications via a tailor-made mix of social media outlets for building and maintaining online relationships that boost brand awareness and sales for your company.
Press Conferences and Specialized Media Events: Important corporate announcements require suitable public presentation. That is why Southpaw Productions consultants work closely with clients to plan the full logistics, content and messaging for custom-designed press and media events. The Southpaw Productions team has over 15 years experience managing press events for EU bodies, government ministries, top corporations and not-for-profit groups. Our added-value comes from our experience in knowing when, where and why (or why not) to host a press or media presentation.

PUBLIC AFFAIRS (PA)
Political and Legislative Monitoring: The most important factor in influencing legislative processes is timing. That is why Southpaw Productions offers its clients a full-service, early-warning monitoring system for the entire legislative process. Southpaw Productions' legislative monitoring packages are based on in-depth consultancies and studies of the client's business and subsequent monitoring of identified regulatory priorities. For interested clients Southpaw Productions can put together timely, easy-to-process monitoring reports that speak directly to events and decisions that impact their business.
Networking: In particular cases it is important for businesses to build relationships with politicians and decision-makers in public administrative bodies. Based on consultations with clients, Southpaw Productions team members are able to advise clients on the utility of meetings with key decision-makers and also brief and prep them for these meetings. Whether your company is new to the market and wishes to build relationships from scratch or you are looking to seek counsel on a specific regulatory norm, the Southpaw Productions team can help you manage this process.
Lobbying: Although often having a bad connotation in the local context, lobbying to influence the content of regulatory norms is a process done by all sorts of organizations from civic initiatives to big corporations. Southpaw Productions works to help its clients understand the technicalities of this procedure and petition for regulatory content or reform based on the strength of their concerns outlined in research materials and argumentary documents. Southpaw Productions' management reserves the right to refuse work that does not fit with the principles of its CSR strategy.
Events Monitoring: As a support service to both our PR and PA services, the Southpaw Productions team also helps clients to monitor networking opportunities that hold real added value for their business. This consists of weekly news alerts and monthly event overviews that help our clients know where they should be when to best engage in networking to support their business activities and brand awareness.

Research, Translation and Text Localization Services
Market Analysis: From companies looking to assess the viability of launching local operations to those who wish to have in-depth information on developments in a key business segment, the Southpaw Productions team is able to produce need-specific analytical reports. Key sectors where the agency has long-term experience and strong knowledge of market evolution include banking and finance, ICT, insurance and retail.
Text Translation and Localization: The Southpaw Productions team consists of native speakers of English, Czech and Slovak. We have provided translation and text localization service for a number of clients including companies in the ICT, insurance, finance and retail/FMCG sectors. Additionally, we have assisted universities, magazine editorial offices and not-for-profit groups with translation and editing services. Southpaw Productions prides itself on providing quick delivery of high-quality translations and text corrections.