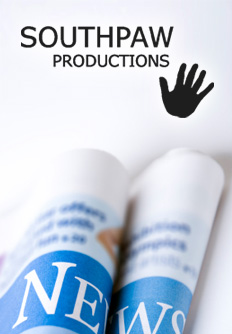 CONTACTS
Southpaw Productions, s.r.o.
U Kanálky 1559/5
120 00 Prague 2 – Vinohrady
Tel: +420 222 715 698
GSM: +420 777 723 599
E-mail: info@southpawpro.cz
Our team
The Southpaw Team of consultants consists of three principals, who manage overall day-to-day business administration along with the work of a team of approximately 5-6 consultants. Company principals are responsible for managing client relationships and working with Southpaw's team of consultants to guide media relations and government relations services for our clients.

Company principals include
Brady Clough (partner) – Brady has worked in the fields of public relations and public affairs for 13 years. His key strengths lie in developing and realizing communication strategies for larger information campaigns, in managing crisis communications, in leading media trainings and in managing agency-client relationships. Prior to founding Southpaw Productions he worked on communications projects promoting awareness of EU membership and the activities of EU institutions in the Czech Republic. Additionally, he has led numerous charitable and not-for-profit programmes targeted at supporting integration of Czech Roma minorities into mainstream society. Brady has also produced a number of industrial analyses for global market leaders (Ford, AstraZeneca Pharmaceuticals, Tesco Czech Republic and Slovak Republic) running or interested in launching business activities on the Czech and Slovak markets.
Pavel Voves (partner) – Pavel has worked for several years handling various administrative tasks and conceptual issues for Czech not-for-profit organizations. His strengths include management of the day-to-day administrative needs of not-for-profit and corporate organizations and managing relations with local suppliers and partners. He has served as account advisor and financial manager for various international projects. He manages the administrative and financial aspects of account work at Southpaw Productions.
Andrej Vilim (associate) – Andrej is the main business contact for Southpaw Production's public relations and public affairs activities in the Slovak Republic. Andrej has worked for a number of years providing government relations counsel and legislative monitoring services and has co-operated with Southpaw staff in providing industry analyses for company clients. Andrej also oversees Southpaw's day-to-day business activities in the Slovak Republic.
In addition to company principals and permanent consultants, Southpaw Productions also works with a number of freelancers and external experts. These include partners who rank at the top of their field in providing services such as translations, interpreting, graphic design, web design, printing and catering/event management services.