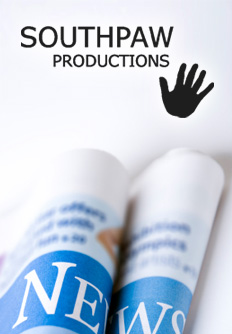 CONTACTS
Southpaw Productions, s.r.o.
U Kanálky 1559/5
120 00 Prague 2 – Vinohrady
Tel: +420 222 715 698
GSM: +420 777 723 599
E-mail: info@southpawpro.cz
About the agency
The Southpaw Productions agency was established in 2005 by a team of public relations and public affairs experts with over 10 years experience in their respective fields.  Prior to launching the agency, company partners participated on successful communications campaigns for companies in the areas of finance, pharmaceuticals, ICT/telecommunications, retail and FMCG and for government bodies.  In their previous agency roles, Southpaw principals were also actively involved in the design and implementation of two successful public communication strategies on the Czech Republic's accession to the European Union.
Since its establishment Southpaw Productions has continued to grow; taking on new clients in the field of IT consumer goods, finance (short-term credits/lending), and providing ad hoc political consultancy.
The agency currently has 5 full-time consultants and works with a number of external media consultants, who assist with the production of expert articles, press materials, etc. alongside the promotion of thought leadership initiatives and implementation of communications strategies.  The agency also works with a select team of independent consultants to provide its clients legislative and political monitoring services.  Additionally, Southpaw Productions works with a number of external suppliers, who rank at the top of their respective fields in supply of events management, catering, photography, copy-writing, social media management and graphic design/print services.
Southpaw Productions is a small-business member of the American Chamber of Commerce in the Czech Republic, where its consultants are active in the ICT and Marketing Committees.