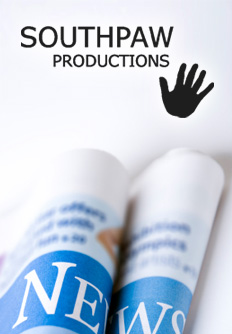 CONTACTS
Southpaw Productions, s.r.o.
U Kanálky 1559/5
120 00 Prague 2 – Vinohrady
Tel: +420 222 715 698
GSM: +420 777 723 599
E-mail: info@southpawpro.cz
Image Lab, a top provider of management consultancy and management training/soft skills courses, announced today new appointments to four key posts in the company.  Advancements within the company include Robert Pik, newly-named marketing manager, and Gabriela Schwarzová, newly-appointed knowledge manager.  Ester Danelová and Magdaléna Vyletová have joined the companies as new lecturer-consultants.
Below are brief CVs of the new Image Lab consultants:
Robert Pik (34) has been promoted within Image Lab to the post of marketing manager.  He has been with the company for 3 years now, working as a senior consultant.  He has certifications strategic planning and public project management and his work focuses primarily on the areas of managerial training, business and productivity.  He has provided consultancy services to top companies such as ČSOB, Škoda Auto, AVG, Czech Radio, Metrostav and Subterra.  He has a master's degree in Adult Education from the J. A. Komenský University in Prague and a bachelor's degree in Free Time Management and Recreation from Palacký University in Olomouc.  He is fluent in Czech and English.  His hobbies include yachting, music, dance and meditation.  He is single.
Gabriela Schwarzová (30) has advanced to the newly-created post of knowledge manager, where she will be involved in creating and sharing company know-how.  She has work experience in the areas of supervision and coaching, in guiding professional counselling interviews and supported employment.  In the past she has worked for top multinational companies such as ABB, ČEZ, ČSOB, Škoda Auto and Wallmark.  She studied Religion and Social Work at Charles University's Faculty of Arts.  She speaks Czech and English.  In her free time, she enjoys hiking, reading poetry and African dance.  She is single.
Ester Danelová (24) has joined the Image Lab team as a lecturer-consultant.  She specialises in management assessment centre administration and training centre management and psychodiagnostics.  She has won several awards (Psychotherapy Research Lester Luborsky Student Poster Award and the Rector's Award for Best Student at Masaryk University) and has worked in a volunteer centre in Kenya.  Her other professional work includes consulting for companies like ČSOB and Sprachcaffe Reisen, and also participation in numerous projects in the not-for-profit sector for groups such as D3-Centre for Applied Ethics, the Integra Foundation and the Brethren Evangelical Free Church (Církev bratrská) in Bratislava, Slovakia.  She has a doctorate in Psychology from Masaryk University in Brno.  She speaks Czech and English.  Her hobbies include spending time in the outdoors, enjoying the company of her friends and reading.  She is single.
Magdaléna Vyletová (26) comes to Image Lab as a lecturer-consultant from Ipsos Tambor.  She is a certified trainer/coach in the fields of communications, team building and presentation skills.  She is a member of the Association of Management Trainers and Consultants (ATKM).  In the past she worked for the companies, Ataxo Czech (leader of call centre sales team) and Ipsos Tambor (project manager for qualitative research).  She has a degree in Anthropology and Sociology from Masaryk University in Brno.  She speaks Czech and English.  In her free time, she enjoys music, literature, theatre and nature.  She is single.